People in my family don't win things. OK, maybe we win spelling bees, but not stuff like cars or money and none of us has numbers in the lottery. It's not that we see ourselves as unlucky. In fact, we're statistically pretty advantaged in most areas. But I've never won anything. Even from KCRW, our local Public Radio station that every single one of my friends has managed to score free concert tickets from for DECADES (thanks again, Jihad Jenni, for taking me along to see Scissor Sisters. Those $20 beers were pretty badass). Of course I've always been more interested in dating the DJs than in getting free tickets because a girl has to have priorities, but that's a different blog post all together.
There was this one year, 1981, that we McClures were on fire with both the radio giveaway and our love of the legwarmer (I've got awesome blackmail pictures to prove the latter). First my brother won concert tickets to see Neil Diamond (they're coming to America! Today!), which I think excited my mom a whole lot more than him since she insisted on chaperoning. And then she turned around like a month later and won an Amana microwave on KRBE, Houston's very own hitmaker (tm). Of course memory is an imperfect thing, and the Tiny Dancer remembers things a little differently-- that she, in fact, won BOTH the tickets and the microwave, and that it wasn't really a microwave that she won at all, but $50 that she put towards a microwave of her choosing. So mom, it turns out, is the luckiest McClure of all. And that probably has something to do with the fact that she wasn't born one. Marrying a McClure, maybe not so lucky, but that was her choice.
The microwave was like this magical appliance in our house. It could make POPCORN (popcorn that tasted like burnt toast). And boil water in ONE minute! But we were not allowed to stand in front of it because we might get cancer. Lots of logic in our house, a strange meditation on faith and reason or a lack of either at any given time. But still, this exotic little box that chirped like a mechanical baby bird when it was finished cooking was God in our kitchen, which is saying a lot for a kitchen full of Presbyterian appliances.
Pre-Microwave, (PM), the Hungry Man had ruled supreme on our dinner table, or more specifically, the shag carpet in front of the TV. My parents had split up and the Tiny Dancer had gone back to work and was really struggling to take care of everything that had been dropped into her lap (plus, she just wasn't built for working outside the home). So we ate crates, maybe even pallets, of TV dinners. In those days there were only a few choices: the Hawkeye (my brother's favorite steak and potatoes), salisbury steak, some kind of breaded chicken and a turkey entree. Oh, and the best standby of all, the Swanson's chicken pot pie. And who could forget the sides? The very worst part of any TV dinner. Yes, they provided a much needed break in the brown palate of the tray with a splash of color (and a shit-ton of starch for adherence to that awesome food pyramid that said carbs were a diet food), but I don't think I ever ate anything but the sad and over processed potato offering. Certainly I never touched the peas.
But I LOVED the TV dinner. It made me feel like I could take care of myself, and, in a pre-Survivor world, I was quite certain in my nine year old mind that if I were lost at sea à la Brooke Shields in The Blue Lagoon (tween porn in 1981), all I would need to survive was an igloo chest full of Hungry Man dinners, an oven and a curly haired Christopher Atkins. He could figure out how to build an outlet for the electrical plug. Oh, and how to electrify our desert island hut. We were not a family that had any idea that a things such as gas appliances existed.
Sadly, as soon as the microwave really infiltrated our kitchen with its modern ideas, those ideas had spread like wildfire into the frozen food section and beyond in our little Kroger. All of a sudden, there were all these options without aluminum trays that would fry the sensitive little brain of the microwave. It was a frozen free-for-all bacchanal that left the oven to greater tasks, like heating up pre-made chocolate chip cookie dough.
And the TV dinner went the way of the Dodo. Mostly. And in its place, Lean Cuisine. And that's just not a fair fight.
I still have amazing memories of that aluminum tray and of the gross apple brown betty. Once again, I'll remind you that the peas are not on that list. Truly, the Achilles heel was the pea section. It killed peas, and most green legumes for me until I had fresh ones as an adult. Now I LOVE them. They herald Spring and all the delicious produce on the table, but in the TV dinner, Jesus, they ruined generations of kids.
Sooooooo, dear readers (thanks to all two of you who read this, by the way), it seemed to me in menu planning the latest soupapolooza! that I'd like to do a modern TV dinner dinner party. That I'd like to do each course as a compartment in that TV dinner aluminum tray in a nod to a time before the microwave. A time when eating in front of the TV meant you had 3 choices of a show to watch, one of which was hopefully Fantasy Island.
Here is the menu I came up with:
Truffletots
Fontina & Gruyere Mac & Cheese bites with Roasted Cherry Tomato
Sugar Snap Pea, Edamame, Spring Pea, Pea Tendril and Mache Salad with Goat Cheese and radish in a Hazelnut Vinaigrette
Chicken and Dumpling Pot Pie Soup
Strawberry Rhubarb Crumbles with Cardamom and Nutmeg
I'll post all the recipes in the coming weeks, but the first, and in my opinion, most important of these is the Chicken and Dumpling Pot Pie soup. Mainly because it's based on my original Chicken and Dumpling Recipe that was featured in Bon Appetit, before they made it less labor intensive for their readership. It's still delicious in the magazine, but this is a much richer southern version with homemade chicken stock, which makes all the difference in the world. If you simply don't have the time to make your own stock (just make a giant batch some Sunday when it's raining, it'll fill up your house with divine smells and warm your soul. Freeze it for when you have any recipe that calls for chicken stock), you can sub a quality box stock (I like Imagine), but it's seriously just not as good.
Here you go...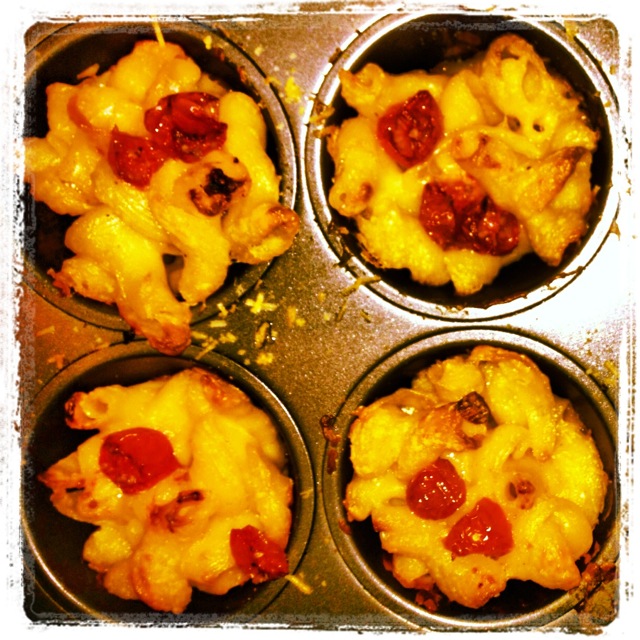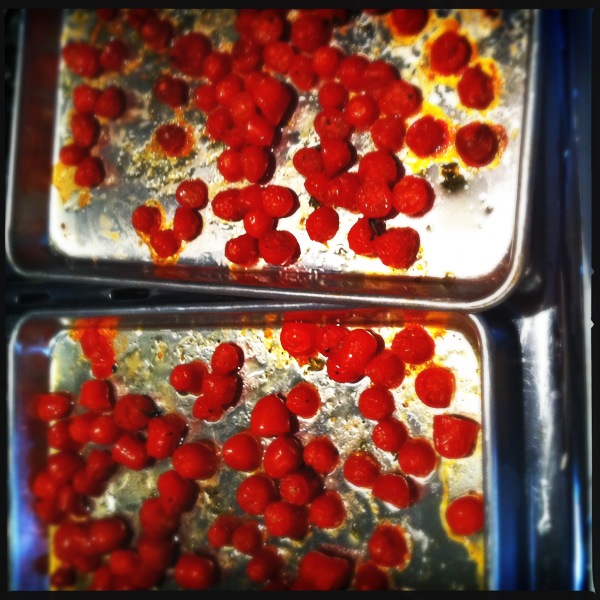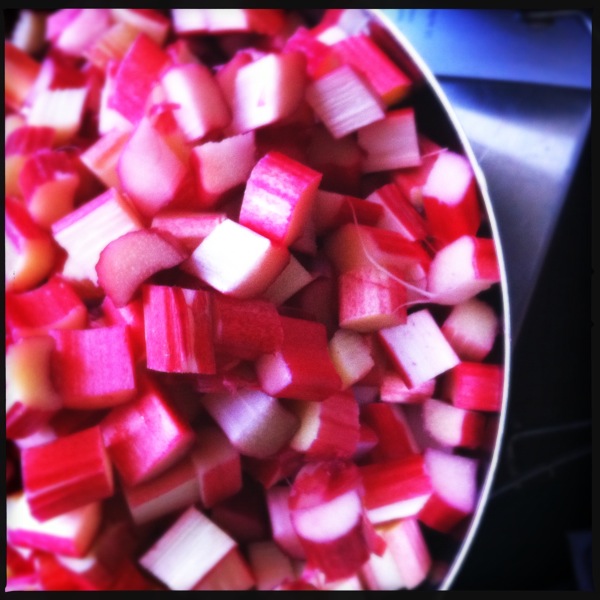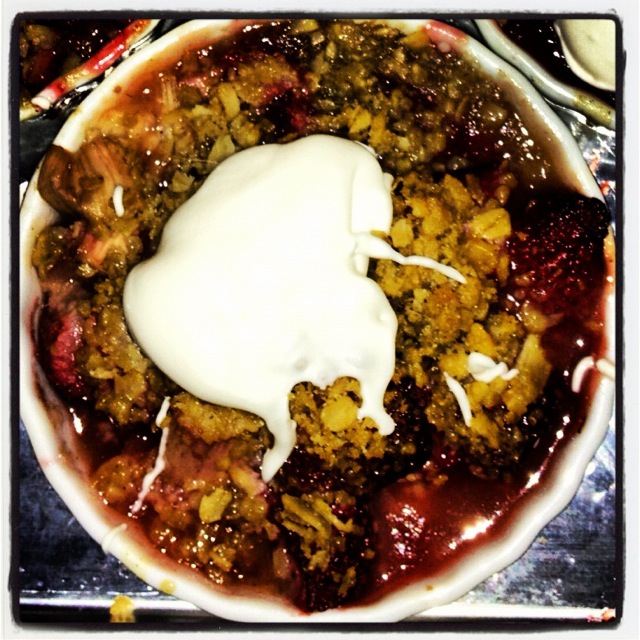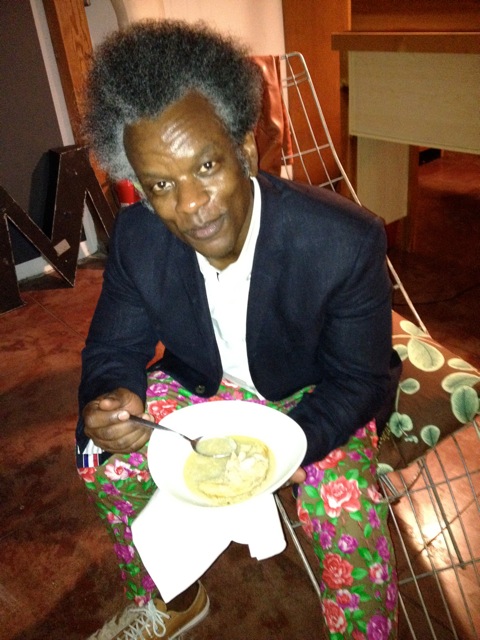 Gammy's roasted chicken and dumpling soup
(1) 3 ½- 4 lb. fryer chicken
1 TBSP + 1 TBSP +1 tsp olive oil
1 TBSP + 2 tsp + 1 ½ TBSP kosher salt
2 tsp + 1 tsp fresh ground black pepper
1 medium white onions, peeled and diced + (2) med. white onions, peeled and quartered
4 oz rainbow carrots, peeled and diced + (3) carrots, quartered
2.5 oz celery, peeled and diced + (2) celery ribs, halved lengthwise
6 oz parsnip, peeled and diced
*6 chicken feet
*6 chicken wings
*2 chicken backs
*giblets
4 qt. cold water
1 bunch flat parsley
3-4 stalks fresh sage
3-4 stalks fresh thyme
3 fresh bay leaves
1 TBSP black peppercorns
2 TBSP butter
3 TBSP flour
for dumplings:
1 cu half and half
½ cu butter
1 tsp kosher salt
½ tsp. ground nutmeg
1 cu all-purpose flour
3 eggs
store bought frozen pie crust (the kind that comes flat or rolled, like Pillsbury, usually in the dairy section)
1 egg white (for brushing on top of crust)
garnish:
1 bunch scallions, chopped on the bias
special equipment:
mini-pie pan (I used Chicago Metallic's pan and cutter, and I highly recommend it)
for stock/ soup:
clean and pat dry chicken. Add 1 TBSP olive oil to large roasting pan, coating bottom, and then an additional 1 TBSP olive oil to chicken. Season chicken with salt and freshly ground pepper and place in roasting pan.
place chicken in oven for 30 minutes (peel and dice onion, carrot, celery and parsnip at this time).
remove chicken from oven and add diced vegetables (onion, carrot, celery and parsnip) to pan. Drizzle vegetables with 1 tsp olive oil and add 2 tsp kosher salt and 1 tsp freshly ground black pepper and cover bottom of pan. Return to oven.
cook an additional 30- 40 minutes, until chicken is done and veggies are browned. Remove from the oven.
remove veggies from pan and reserve for later. Make sure to include chicken fat from pan.
pick cooled chicken meat from the bones and reserve for later, putting carcass, bones, excess fat and skin into an 10 qt. stock pot.
add feet, wings, backs and giblets to stock pot with (2) med. white onions, peeled and quartered, (3) carrots, quartered and (2) celery ribs, halved lengthwise. Add 4 qt. cold water then parsley, bay leaves, sage, thyme, peppercorn and 1 ½ TBSP kosher salt. Bring to a boil. Skim froth. Reduce heat and gently simmer, uncovered for 3-4 hours. Skim froth occasionally.
remove from heat and pour stock through a sieve into a large bowl and discard the solids. Skim off and discard any fat.
on medium heat add 2 TBSP butter to large dutch oven then add reserved vegetables and sweat, about 10 minutes. Add reserved chicken and sauté 5- 10 minutes, add a few pinches of salt then sprinkle with 3 TBSP flour and stir to combine. Slowly pour 6-8 cups reserved chicken stock into pot and simmer 30 minutes.
while simmering, make dumplings in separate sauce pan: over medium high heat bring butter and half and half to a boil then add salt and nutmeg. Immediately remove from heat and add flour, stirring until dough breaks away from side of pan. Add eggs, one at a time and stir until a sticky dough has formed.
taste soup and season, if necessary. Bring soup up to a low boil and add smallish, spoon sized balls of dough and simmer, covered until dumplings rise, about 10 minutes.
Remove from heat to cool.
using store bought pie crust (seriously, you're doing enough already), cut crust and place in mini pie pan.
ladle coolish soup into pie pan and place top of pie crust and seal with your fingers (just follow the instructions that come with the pan, they're more elegant than my instruction). Brush with egg white then bake for 25-30 minutes, until top is golden.
bring soup back to a simmer (low heat).
remove pies from oven and slightly cool. Place into bowl and ladle soup around the pie. Garnish with a sprinkle of scallion.
*ask your butcher/ poultry purveyor
__________
I have to be honest: I don't even own a microwave despite the Tiny Dancer's insistence that there are just certain things you can't do without one, and it's just simply a magical device. I'm not convinced. Plus, it takes up just too much valuable counter space. I hate the microwave. And as certain as I am that life is just not made up of binary situations (nothing is simply a yes/no, right/wrong, reason/faith, black/white, 0/1), I believe that the microwave is responsible for many of today's societal ills. Seriously. Of course, I reserve the right to revise this opinion at any given time, but for now I'm sticking to it.
Because it wasn't actually lucky that my mom won the microwave because it unleashed any number of unholy things on our kitchen and the on the greater world, like burnt toast popcorn. And it didn't really make life easier. And it snuffed out the Hungry Man, even if standing in front of the damn thing hasn't killed either my brother or myself... just yet.
Really. Video Killed the Radio Star and Amana killed the pot pie. So I'm bringing it back!
Remember to check back in for the rest of the menu, and...
...Soup on!